Lord Sandwich Blanc
Typically $20/bottle from Smith Story
Vintage 2017 from Sonoma County
Named after the owners' adorable dog, Lord Sandwich, and his noble cause
Available for AZ; CA; CO; CT; DC; FL; GA; IA; ID; IL; KS; LA; MA; MD; ME; MI; MN; MO; MT; NC; ND; NE; NJ; NM; NV; NY; OH; OR; PA; RI; SC; SD; TX; VA; WA; WI; WV; WY
Sold by Smith Story Wines, fulfilled by Wine Country Connect
About Smith Story Wines
Created by Eric Smith and Ali Story shortly after their wedding, Smith Story Wine Cellars was founded with their combined experience in wine of over 36 years. We Eric's wine buying expertise and retail management lends a keen eye and discerning palate as he became the German, Loire, Alsace, Austrian and Greek wine buyer for K&L. Ali's hospitality, wine buying, consumer marketing and national sales experience completes the entire wine-supply-chain as she transitioned from her decade old company TexaCali Wine Co. to drive the vision and brand for Smith Story Wine.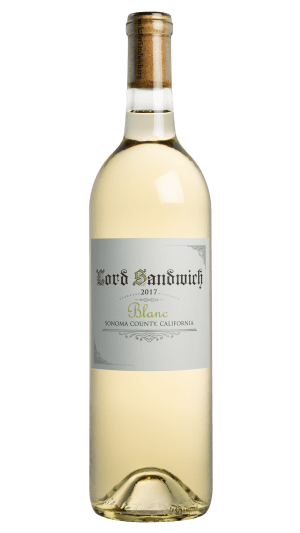 Who's buying this?
How are you buying your bottles?